This post was originally published on this site
Jan 29, 2018; Denver, CO, USA; Denver Nuggets center Mason Plumlee (24) is assisted off the floor in the fourth quarter against the Boston Celtics at the Pepsi Center. Mandatory Credit: Isaiah J. Downing-USA TODAY Sports
The Denver Nuggets battled at home against the Boston Celtics but fell 111-110 in the final seconds of regulation. Even with the loss, the Nuggets may have dodged a sizable bullet.
Mason Plumlee — who has been the Nuggets' starting center with Nikola Jokic starting alongside him at the power forward position — went down with what looked like a scary lower leg injury with 7:47 left in the fourth quarter during one of his best games in a Nuggets' uniform. At that point, Plumlee had accumulated 16 points on 7-10 shooting to go with eight rebounds and two blocks in 28 minutes of action. He was playing well on offense alongside Jokic while also being the defensive anchor on the other end of the floor. His effect on the game was as impactful as it has been all season. The injury itself didn't look terrible — as seen above — but when you see a player have a (mostly) non-contact injury and immediately grab their calf after the play, it is easy to suddenly worry about a possible Achilles injury. What made things even more nerve-wracking was Plumlee's reaction after the injury and it immediately became a cause for concern. Watch below.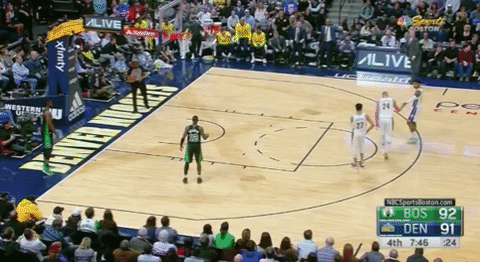 Keep your eye on Plumlee in the video. This was directly after hurting his right calf. He was grabbing the back of his right calf before the ball was inbounded and somehow managed to gingerly make it to the other end of the court before realizing that there is something seriously injured with his right leg.
Plumlee then pulls up on the other end of the floor and immediately reaches back for his calf once again. Thankfully, the injury update came down the pipeline and Plumlee was diagnosed with a strained right calf and it wasn't anything more severe, but it is still an injury that can see Plumlee out for the foreseeable future.
After the Nuggets' loss, a source told Mile High Sports that Plumlee did receive an X-ray and that X-ray came back negative, which allowed the Nuggets' organization to take a collective deep breath.
While Plumlee will not travel with the Nuggets on their quick one-game road trip against the San Antonio Spurs on Tuesday night, he will be getting an MRI to find out how severe the calf strain really is and to discover how long he will be out. There are three different grades of a calf strain depending on the severity of the injury.
If it is just a grade-one strain of the calf, it is the equivalent of pulling a muscle and is less than 5 percent of structural disruption; Plumlee will miss anywhere from 1-3 weeks.
If it is a grade-two strain that would mean that Plumlee actually tore part of his calf muscle. If that was the case, Plumlee will miss anywhere from 3-6 weeks.
A grade-three strain is as bad as it gets. It is a complete tear of the calf muscle and tendons that support it. That recovery can take as long as a few months.
While the Nuggets wait for the results of the MRI to come back to fully understand how long they will be without Plumlee, they do need to start preparing for life without him for the foreseeable future and — from the sound of some of Plumlee's teammates — that will be easier said than done.
"It will be really hard," Plumlee's frontcourt partner Jokic said in front of his locker after the Nuggets' loss to the Celtics. "He is a big part of our team just because he is a big man who can defend everybody and who can rebound so it will be really tough without him."
The Will Barton was asked how important Plumlee is to the Nuggets and he gushed about Plumlee's defensive ability, passion, and toughness.
"Big, man. He's our defensive anchor," Barton said when asked about the impact of losing Plumlee. "He is always is playing tough no matter if things are going his way or if he's having a difficult night. He is always bringing toughness, defense, and competitiveness. That is a big, big loss for us."
Plumlee is averaging 7.4 points, 6.4 rebounds, and two assists while shooting 56.2 percent from the field and adding 1.2 blocks to the mix as well over 20.9 minutes per game this season for the Nuggets.